Skills for Education and Employment (SEE)
The Skills for Education and Employment (SEE) Program provides free training to eligible jobseekers to improve their language, literacy and numeracy skills to get a job.
SEE is funded by the Federal Department of Employment, Skills, Small and Family Business.
Quick facts about the SEE course
It is FREE
Eligible jobseekers (aged 15 to pension age) can get up to 2 years of full time or part-time training (10-25 hours each week)
Work experience is offered as a part of the training
You can still look for work
The training you receive will be based on your goals for the future
This program can also help you if English is your second language
SEE is delivered in a supportive adult learning environment
We have highly qualified specialist teachers
We have small class sizes
SEE offers pathways to employment and/or vocationally orientated training programs
Why do the SEE course?
The SEE course will help you get the skills you need to get the job you want. Training is available from initial to advanced levels. The SEE program can help you get the job you want by:
Improving your reading and writing skills
Improving your maths
Improving your information, communication and technology (ICT) skills
For further information, please read more about SEE here.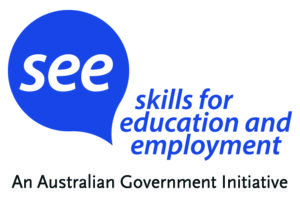 About Learning for Employment
Learning for Employment (LfE) was established in 2001 and has delivered the SEE program since then. LfE began delivering the Adult Migrant English Program (AMEP) on 1 July 2017. The SEE and AMEP programs are respectively funded by the Australian government's Department of Education, Skills and Employment and the Department of Home Affairs.
Djerriwarrh Community & Education Services trades as Learning for Employment for the delivery of SEE and AMEP. The organisations who deliver programs and provide services on behalf of Learning for Employment are:
Comm Unity Plus Services Ltd
Djerriwarrh Community & Education Services
Laverton Community Integrated Services
WCIG
Wyndham Community & Education Centre Inc.
Williamstown Community and Education Centre Inc.
Yarraville Community Centre
All Learning for Employment organisations are not for profit Learn Local providers and deliver a range of community and education services for individuals, job seekers and businesses.
For further information, please read more about Learning for Employment here.