Jobs Victoria Advocates program lands Tanisha her dream job
When local Tarneit resident Tanisha visited her local shopping centre to buy some groceries she had no idea that she would land her dream job.
Djerriwarrh Community & Education Services' JVA team had set up a Community Information Booth at the Tarneit shopping centre on 23rd of February 2022 when Tanisha noticed the Jobs Victoria banner and JVA staff in Jobs Victoria uniforms. Tanisha had just completed her Bachelor of Youth Work and was thinking about her career options when she decided to have a chat with our JVA team member, Asad Taqvi. Tanisha spoke about her passion to help her community, gain experience in client support and case management work. Asad advised Tanisha that Djerriwarrh currently has a vacancy for a ParentsNext Coach. Tanisha applied and was interviewed for this role, and the rest, as they say, is history. Congratulations Tanisha and welcome to Djerriwarrh.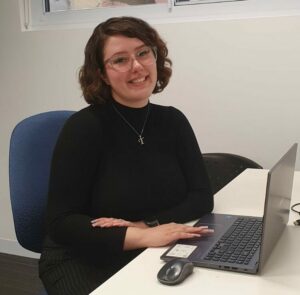 We spoke with Tanisha about her experience with our JVA service and this is what she had to say:
"Coming out to the shopping centre to meet with the local residents was a great idea from the Jobs Victoria Advocates team. Up until then, I had not heard about Jobs Victoria and doubt that I would have if not for their visit to my local shopping centre. With having recently completed my Bachelor of Youth Work and just starting to think about my career options, the timing of meeting the Jobs Victoria team could not have been better. My Jobs Victoria contact, Asad, was amazing. He spoke to me about all my options in line with my studies and my interests and provided me with very good advice and information, including the ParentsNext Coach role at Djerriwarrh."
"I am now looking forward to my new career as a ParentsNext Coach with Djerriwarrh. I am excited about helping parents with young children achieve their education and training goals and hopefully making a bigger future impact on intergenerational welfare dependency. I am also keen to just get the small daily wins, like building rapport with my clients, hearing their stories, helping clients from non-English speaking backgrounds with English classes, celebrating their progress and making a difference to parents' lives wherever I can."
"This amazing ParentsNext journey that I have just started would not have been possible if not for the Jobs Victoria service coming out to my local shopping centre. I now feel like the sky is the limit for me professionally. Thank you Djerriwarrh and thank you Jobs Victoria."