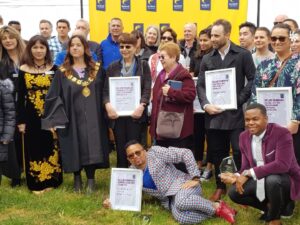 Since 2007 Djerriwarrh Community & Education Services has been working in partnership with Western Health to create a pathway to sustainable work as a Health Services Assistant at Western Health for local jobseekers. We offer the Certificate II in Community Services (preparation for Health Services Assistance) which has been developed in collaboration with Western Health. The course includes an industry placement at one of Western Health's locations – Footscray, Sunshine or Williamstown. Students who successfully complete the Certificate II are eligible to apply for a paid traineeship at Western Health, leading to a Certificate III in Health Services Assistance and ongoing employment.
Since this program started in 2007, over 300 people have successfully moved from the Certificate II to a paid traineeship with a total retention rate of 90% over
the 11 years. In 2018 25 people were offered traineeships, which is 80% of people who completed the Certificate II.
We know this partnership with Western Health delivers both great training and employment outcomes for participants and sustainable staffing solutions for Western Health. As the program takes place in Sunshine and St Albans, we nominated for the Employment and Enterprise section of the We Are Brimbank awards. On a cold windy Sunday morning, at the Celebrate Brimbank Community Day in Cairnlea we were very proud to win the award.
Congratulations to all of the participants in this program and also to the Djerriwarrh and Western Health staff involved!