Graduate Grinning
A wonderful story about Annie and the success of the Patient Service Assistant Traineeship program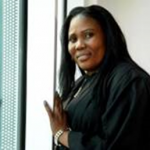 UNLIKE many people, former refugee Annie Cooper enjoys going to hospital.
The St Albans resident graduated from the Patient Service Assistant Traineeship (PSAT) program at Sunshine Hospital last Thursday.
The program – a partnership between Western Health, the Northern Melbourne Institute of TAFE and Djerriwarrh Community and Education Services in Melton – is run thanks to funding from the Federal Government's Australian Apprenticeships Access Program.  Ms Cooper has spent the past 12 months taking part in the program and now works at the hospital on a casual basis.
"The qualification encourages me to take on lots of different roles," Ms Cooper said.  "We go into different wards and experience different things. Every room you reach a ward, it puts a smile on your face."
Ms Cooper arrived in Australia in 2010, at the age of 43, with her children, nieces and nephew.
She escaped from war-torn Liberia, living in a Ghana refugee camp for many years, before being accepted into Australia as a refugee.  Nowadays, Ms Cooper said her nephew hopes to become a doctor in the future.
"He asked me about the hospital and I said, 'I love it. I love to see many young people at the hospital'," Ms Cooper said.  "I would like to thank my family because they encourage me a lot, all the staff at the hospital and also my boss because he always encourages me."
Her 'boss', Western Health training and allocation manager Steve O'Byrne, said the PSAT program began five years ago and has trained around 120 graduates.  "Annie has been exceptional," Mr O'Byrne said.  "She has been here 12 months and she has never had a day off. She is a quick learner and always encourages the other students, who have come after her."
Article and photo from Star Newspaper